Campari Group Unveils North American Headquarters In New York City, Gensler Design Embodies Rich Heritage Of Italian Company And Brands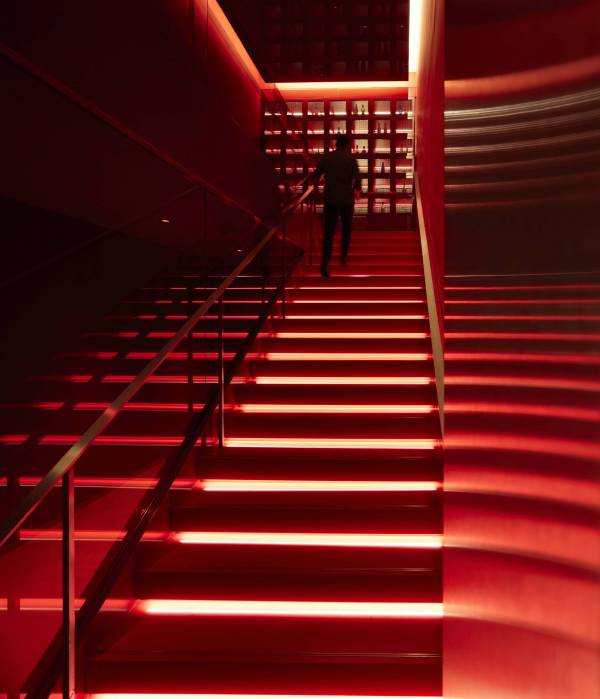 Global Spirits Company Combines Style and Collaboration to Reimagine the Modern Workplace
NEW YORK CITY (March 11, 2019) – Take the vibrant heritage of the world's most iconic spirits brands and a company known for its uncompromising support of art and culture. Now, apply that to a modern, collaborative work environment in the heart of Manhattan and you have Campari Group's new headquarters for its North American and US business units. The world's sixth-largest spirits company pulled back the velvet curtain on its breathtaking midtown headquarters this week.
Overlooking lush Bryant Park, Campari Group's offices occupy the 18th and 19th floors of the landmark Grace Building and offer an immersive brand journey throughout, pulling cues from such world-renowned brands as Aperol®, SKYY® Vodka, Wild Turkey® Bourbon, Grand Marnier®, Appleton® Estate Jamaica Rum, Espolòn® Tequila, and, of course, most prominently – Campari®. Partnering with Gensler, the global architecture and design firm, the headquarters, which moved from San Francisco in August, evoke Campari's rich Italian heritage and legacy, while embracing its New York City location and progressive workplace design.
"The US is now the largest market in terms of sales for Campari Group, so we needed a new headquarters befitting the important role this market and this region has to the company," said Jean-Jacques Dubau, Managing Director, Business Unit North America, Campari Group. "We wanted our offices to exemplify the Campari Group persona while offering a creative work environment where our employees can collide, connect, and collaborate with each other and key business partners."
With the goal of attracting top talent and nurturing creativity among existing employees, the inviting design features a 100% open workplan and a variety of huddle lounges, quiet spaces, phone rooms, and meeting spaces – with common, shared spaces actually outnumbering the Knoll-designed sit/stand workstations.
"The design vision centered around employee collaboration – not dissimilar to how the perfect balance of ingredients collaborates to create the perfect cocktail – with special attention to design details, such as proper proportions, distinct experiences, and an emotional connection," said Stefanie Shunk, Design Director and Principal at Gensler. "The design reimagines Campari's Italian heritage through the lens of New York City."
Upon arrival, the elevator lobby is bathed in the deep Campari Group blue company color. The leather wrapped entry doors feature custom brass door handles in the shape of the iconic Camparisoda™ bottle. The two floors are connected internally by a double-height opening created in the center of the space with an immersive red lacquer staircase designed to provide an experience akin to being inside a bottle of Campari. A floor-to-ceiling bank of display cases flanks the staircase, where the most precious bottles are proudly exhibited, but kept under tight lock and key.
The bright and airy space offers four distinct bar-like experiences for employees and guests: Fortunato, Café, Concierge, and the Boulevardier, expressing variations in day-to-evening experiences. The Fortunato and the Concierge espresso bar are C-shaped, on the 18th and 19th floors respectively, and are connected vertically through a dramatic double-height atrium, featuring a two-story, 1,500 block wood mural inspired by artwork commissioned by Campari in the early 1900s by Futurist Fortunato Depero. Naturally, the Concierge bar, which serves as the reception desk, features a gleaming Italian espresso machine. The Café bar, where employees gather for meals, is backed by striking views of New York City and inlaid with Campari Group's core company values. Hidden behind the aforementioned red staircase is the Boulevardier lounge, which has an exclusive feel with a reclaimed antique bar dating back nearly 100 years, a dramatic chandelier dangling from the tin roof two stories above, and authentic historical photographs of world-renowned bartenders from the era in which the famous Boulevardier cocktail (equal parts Campari, Wild Turkey Bourbon, Cinzano® Sweet Vermouth) was created – all within an intimate yet dramatic space.
Another intriguing area in the 65,000 square foot space (twice the square footage of the previous San Francisco office) is "The Campari Academy," which serves as an innovation lab where master mixologists and visiting brand ambassadors can experiment and create new craft cocktails. One unique aspect of the space is that no conference rooms or other enclosed spaces, aside from one comfortable lounge, are adjacent to an exterior window – giving all 135 employees the chance to pull up a comfortable chair and enjoy the view. There are no executive offices.
"This is an exciting moment for Campari," said Dubau. "We're confident that our new North American headquarters, located squarely in the epicenter for the American creative and spirits industries, will increase our collaboration, connect us more closely to our counterparts in Milan, and give us the room to expand as we grow our portfolio of premium brands."
About Campari America
Campari America is a wholly owned subsidiary of Davide Campari-Milano S.p.A. (Reuters CPRI.MI – Bloomberg CPR IM). At the heart of Campari America are two legends in the American spirits industry. The first, Skyy Spirits, was founded in San Francisco back in 1992 by the entrepreneur who invented iconic SKYY Vodka. The second is the world-famous Wild Turkey Distillery in Lawrenceburg, Kentucky, where they have been making the world's finest whiskies since the 1800's. Both companies were purchased by Davide Campari-Milano and together they form Campari America, which has built a portfolio unrivaled in its quality, innovation and style, making it a top choice among distributors, retailers and consumers. Campari America manages Campari Group's portfolio in the US with such leading brands as SKYY® Vodka, SKYY Infusions®, Grand Marnier®, Campari®, Aperol®, Wild Turkey® Straight Kentucky Bourbon, American Honey®, Russell's Reserve®, Glen Grant® Single Malt Scotch Whisky, Forty Creek® Canadian Whisky, BULLDOG® Gin, Cabo Wabo® Tequila, Espolón® Tequila, Appleton® Estate Rum, Wray & Nephew® Rum, Coruba® Rum, Ouzo 12®, X-Rated® Fusion Liqueur®, Frangelico®, Cynar®, Averna®, Braulio® and Jean-Marc XO Vodka®.
Campari America is headquartered in San Francisco, California.
More information on the company can be found at www.campariamerica.com, www.facebook.com/campariamerica, Twitter: @CampariAmerica and www.camparigroup.com. Please enjoy Campari America brands responsibly and in moderation.
About Campari Group
Campari Group is a major player in the global spirits industry, with a portfolio of over 50 premium and super premium brands, spreading across Global, Regional and Local priorities. Global Priorities, the Group's key focus, include Aperol, Appleton Estate, Campari, SKYY, Wild Turkey and Grand Marnier. Campari Group was founded in 1860 and today is the sixth-largest player worldwide in the premium spirits industry. It has a global distribution reach, trading in over 190 nations around the world with leading positions in Europe and the Americas. Campari Group's growth strategy aims to combine organic growth through strong brand building and external growth via selective acquisitions of brands and businesses. Headquartered in Milan, Italy, Campari Group owns 18 plants worldwide and has its own distribution network in 20 countries. Campari Group employs approximately 4,000 people. The shares of the parent company Davide Campari-Milano S.p.A. (Reuters CPRI.MI – Bloomberg CPR IM) have been listed on the Italian Stock Exchange since 2001. For more information: http://www.camparigroup.com/en Please enjoy our brands responsibly.
About Gensler
Gensler is a global architecture, design, and planning firm with 48 locations and more than 6,000 professionals networked across Asia, Europe, Australia, the Middle East, and the Americas. Founded in 1965, the firm serves more than 3,500 active clients in virtually every industry. Gensler designers strive to make the places people live, work, and play more inspiring, more resilient, and more impactful.